"Caffeinated Creations" Lake Superior Magazine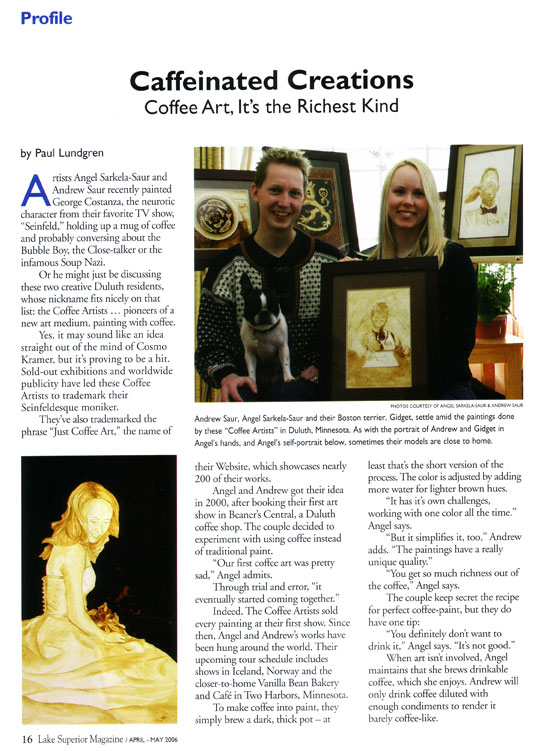 Lake Superior Magazine interviews the Coffee Artists in an article title, "Caffeinated Creations."
Artists Angel Sarkela-Saur and Andrew Saur recently painted, George Costanza, the neurotic character from their favorite TV show, "Seinfeld," holding up a mug of coffee and probably conversing about the Bubble Boy, the Close-talker or the infamous Soup Nazi. Or he might just be discussing these two creative Duluth residents, whose nickname fits nicely on that list: the Coffee Artists …pioneers of a  new art medium, painting with coffee.
Yes, it may sound like an idea straight out of the mind of Cosmo Kramer, but it¹s proving to be a hit. Sold-out exhibitions and worldwide publicity have led the Coffee Artists to trademark their Seinfeldesque moniker.
They¹ve also trademarked the phrase "Coffee Art," the name of their Website, which showcases nearly 200 of their works.
Angel and Andrew got their idea in 2000, after booking their first art show in Beaner's Central, a Duluth coffee shop. The couple decided to experiment with using coffee instead of traditional paint.
"Our first coffee art was pretty sad," Angel admits. Through trial and error, it eventually started coming together."
Indeed. The Coffee Artists sold every painting at their first show. Since then, Angel and Andrew's works have been hung around the world. Their upcoming tour schedule includes shows in Iceland, Norway and the closer-to-home Vanilla Bean Bakery and Café in Two Harbors, Minnesota.
To make coffee into paint, they simply brew a dark, thick pot ­ at least that¹s the short version of the process. The color is adjusted by adding more water for lighter brown hues.
"It has it's own challenges, working with one color all the time." Angel says.
"But it simplifies it, too," Andrew adds. "The paintings have a really unique quality."
"You get so much richness out of the coffee," Angel says.
The couple keep secret the recipe for perfect coffee-paint, but they do have one tip: "You definitely don't want to drink it," Angel says. "It's not good."
When art isn't involved, Angel maintains that she brews drinkable coffee, which she enjoys. Andrew will only drink coffee diluted with enough condiments to render it barely coffee-like.
Sometimes the subject of their paintings is coffee-related, but primarily they paint nature scenes, portraits (including self-portraits) and Scandinavian-themed images. Most of the Nordic-related art comes from Andrew, who is rapt by visions of Viking ships battling maelstroms. In addition to painting with coffee, he does woodcarvings -some of Nordic wood spirits.
" We're inspired by our activities and our heritage," Angel says. "Whatever moves us at the time."
After a trip to Iceland, Andrew painted an image he saw in graffiti of a boy with outstretched arms. It turned out to be the promotion of the Icelandic ambient rock band Sigur Ros. Last fall, when the band performed in Minneapolis, Angel and Andrew presented the painting to keyboardist Kjartan Sveinsson.
Angel and Andrew work together on some paintings, but started out doing solo projects.
"I had trouble working with another artist," Angel admits. "I didn't want to be influenced by his ideas. Now I'm more relaxed about it."
The Coffee Artists are native Minnesotans; Angel is originally from Gilbert and Andrew from Two Harbors. They met as freshmen in the dorms at the University of Minnesota Duluth and got to know each other in an Introduction to Music class ­ thanks to the alphabetical seating chart. (There aren't many names between Sarkela and Saur.)
Andrew fondly remembers the day Angel forgot her textbook, and he came to the rescue. "This pretty girl asked me to share a book with her!" he beams, still seeming surprised at his good fortune.
One day after college, they saw each other going opposite ways on Duluth's Lakewalk and stopped to chat. It was then that their first date was set.
They intended to go rollerblading, but instead went to the Pickwick restaurant to get out of the rain.
A coffee painting called "Our First Date" commemorates the event. It was purchased by the Pickwick's owner and hangs near the bar. Andrew and Angel were married in 2003.
Despite their artistic success, the Coffee Artists say they're not quitting their day jobs any time soon. Andrew is a graphic designer for Krech Ojard & Associates; Angel does graphic design and other marketing work for, appropriately enough, Alakef Coffee Roasters.
The couple will be featured in a documentary film airing later this year in several Nordic countries. Filmmaker Erkki Maattanen spent three weeks in the Midwest last August shooting for the film, which is about Finnish-Americans.
"This artwork has led to some interesting experiences," Angel says. "It's really been opening a lot of doors."
Andrew recalls answering a phone call two years ago from someone representing the U.S. Department of State.
"Oh my God," he thought. "What'd I do?"
The call turned out to be a request for coffee art to hang in the U.S. Embassy in the African Republic of Malawi, where coffee is a significant export.
Articles about Angel and Andy's work have been published in newspapers and magazines in Australia, Taiwan, India, Belgium and Finland. In 2004, they appeared on the Food Network's "Unwrapped" program.
As news of the Coffee Artists stretches across the globe, Andrew and Angel expect to find more and more people trying the medium.
"We pride ourselves on our originality, being one of the first ones." Andrew says.
"It¹s neat that we can inspire other people to try this process."
Who knows what will be next for the Coffee Artists… maybe a coffee-table book about coffee tables.
Paul Lundgren is a Duluth-based freelance writer who never drinks coffee, but enjoys a shot or two of espresso with his Guinness.